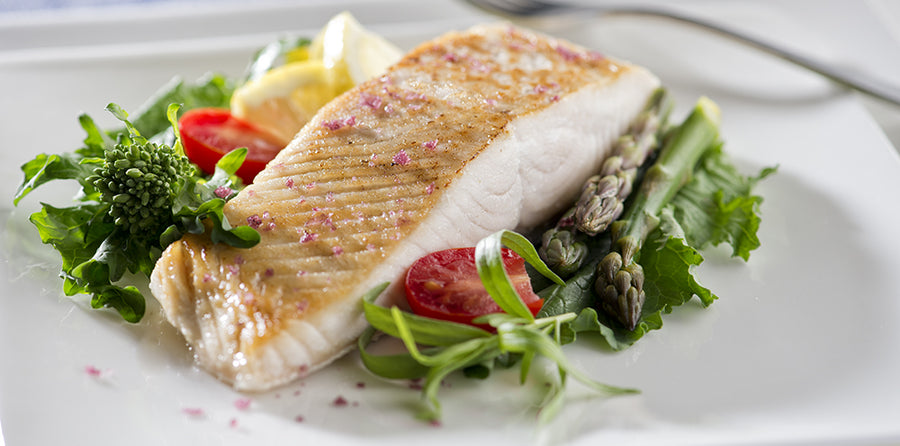 One cooking method we really like for salmon is poaching. Casually elegant, poached salmon is relatively difficult to overcook. It's healthier and cleaner than other cooking methods–in the sense that no extra butter or oil is required. You can also play with flavoring by marrying a combination of white wines, peppercorns, and bay leaf. We offer suggestions in our recipe below, but you can play with different combinations. *Note: Pictured are our Alaska Gold Ivory King Salmon Portions, but our king salmon and coho salmon portions will work nicely, too.
Serves 3 to 4
Ingredients
3 to 4 Alaska Gold

 

Ivory King Salmon Portions
salt
½ cup dry white wine (a good Sauvignon Blanc)
½ cup water
1 shallot, peeled and thinly sliced
several sprigs of fresh dill or sprinkle of dried dill
1 bay leaf
1 sprig of fresh parsley
peppercorns
a few slices of fresh lemon to serve
Instructions
Sprinkle the ivory king salmon portions with a little salt.
Put the wine, water, dill, parsley, bay leaf, shallots, peppercorns, or any combination of these ingredients in a sauté pan, and bring to a simmer on medium heat. (You can skip the wine and just use water if you don't have a bottle handy, though the wine is a nice touch.) You will want just enough liquid to not completely cover the salmon.
Place the salmon skin-side down into the pan with liquid.
Cook 5 to 10 minutes. There is quite a bit more "give" in terms of timing when you poach the salmon, as compared to cooking salmon with other methods.