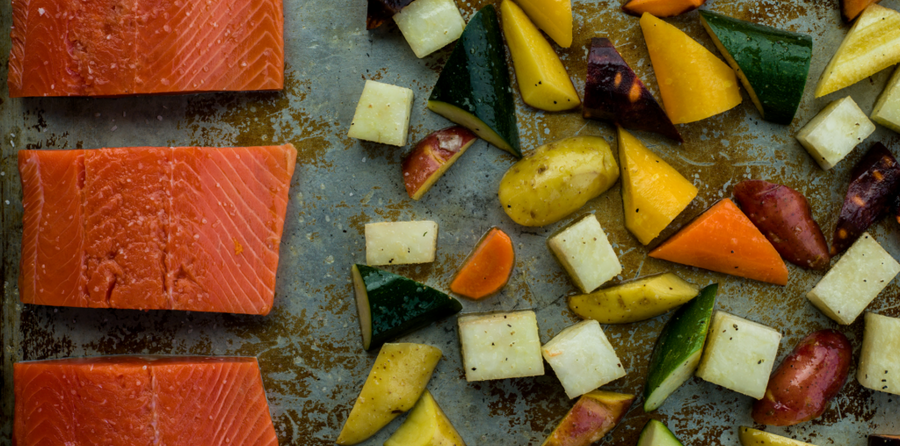 Here is a wild Alaskan salmon recipe that can be cooked from frozen or thawed portions. The mustard pairs particularly well with our Alaska Gold sockeye salmon, but will work with any of the wild salmon we offer.
Ingredients
Salmon
4  Alaska sockeye salmon portions, frozen or thawed
2 tbsp. olive oil
2 tbsp. maple syrup
2 tbsp. Dijon-style mustard
1 tbsp. poultry seasoning
2 garlic cloves, minced
Vegetables
4 to 6 peanut potatoes (about 4 oz.), washed and cut into pieces
2 medium zucchini, thick-sliced
2 medium yellow carrots, peeled and sliced
2 medium orange carrots, peeled and sliced
1 kohlrabi (about 8 oz.), peeled and cubed
2 tbsp. olive oil
1 tsp. salt
1 tsp. garlic powder
1/2 to 1 tsp. pepper
Directions
Preheat oven to 450°F.  Place cut vegetables in a large zip-top bag and add oil, salt, garlic powder, and pepper. Seal bag and turn over several times to coat.  Spread vegetables evenly onto a large baking sheet.  Roast in oven for 15 minutes.
While vegetables are roasting, whisk olive oil, maple syrup, mustard, poultry seasoning, and garlic in a small bowl. Rinse fillets under cold running water to remove any ice glaze. Pat dry with paper towels. Coat salmon with mustard-maple mixture.
Remove baking sheet from oven; turn vegetables over with spatula, then move vegetables closer together to make room for salmon. Place fillets on sheet and return to oven. Cook for additional 15 minutes using frozen salmon or 10-12 minutes using thawed salmon, until fish is just opaque throughout. To serve, portion one-fourth of the vegetables with a salmon fillet.
Recipe by Bruce Bush, Bushes Bunches Farm, Palmer, Alaska. Photo courtesy of Alaska Seafood.