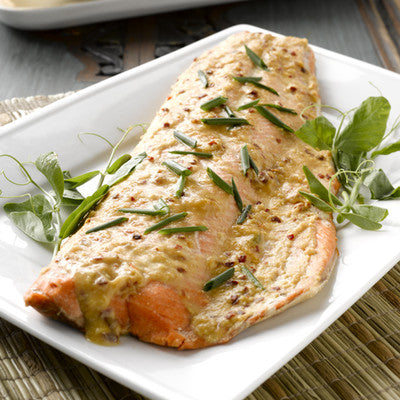 Nothing better or easier than grilling some Alaska Salmon. Here's an easy way to grill salmon with a Thai seasoning.
Ingredients
Heavy-duty aluminum foil (18-inches wide)
High-heat cooking spray
Oil (olive, canola or grapeseed)
Seasoning
Juice of 1 lime
2 tsp. Asian chili-garlic sauce
1/4 cup chopped cilantro
1/2 teaspoon each sea salt and brown sugar
Directions
Heat grill to medium-high (400°F). Coat dull side of aluminum foil (18-inch wide sheet, cut 4" longer than salmon portions). Rinse any ice glaze from frozen Alaskan salmon under cold water; pat dry with paper towel. Brush both sides of salmon with oil and place on foil (skin side down). Bring long sides of foil together and fold over several times to seal; roll up short ends to form a packet.  Place packet, seam side down, onto grill grate and cook 8-10 minutes.
Remove packet from grill, open, and add seasoning of choice. Crimp loosely to close, and return to grill (seam side up).  Cook an additional 8 to 10 minutes, until fish is just opaque throughout.
Serves 3 to 5
Recipe courtesy of Alaska Seafood