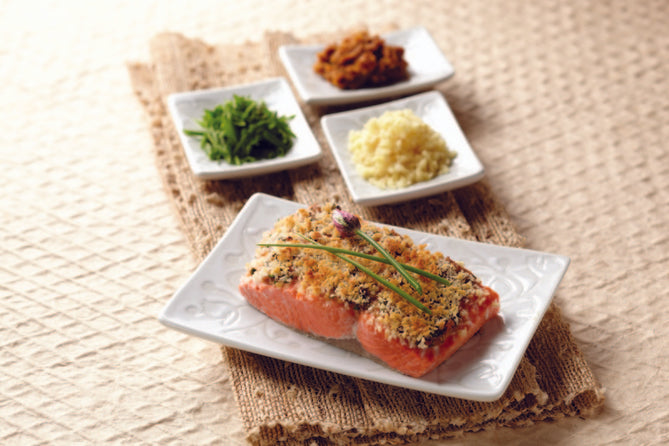 This Ginger Salmon Recipe with Soy Glaze will bring a wonderful ginger-garlic aroma to your kitchen while cooking. With its versatility and mild flavor, our wild coho salmon is perfect for this recipe.
Serves 4
Ingredients
4 six-ounce

 

Alaska Gold Coho Salmon Portions
4-inch piece of ginger, grated
1 garlic clove, grated
¼ cup soy sauce
½ cup red wine
¼ cup mirin
2 tbsp. brown sugar
½ lime, juiced
1 tbsp. olive oil
1 scallion, minced for garnish
Instructions
Combine the soy sauce, red wine, mirin, brown sugar, garlic and ¾ of the ginger in a sauce pan. Cook for 10 minutes, until it reduces by half. Remove from heat and add the remaining ginger and the lime juice. Let cool.
Rub the bottom of a baking dish with the olive oil and place the coho salmon portions in it, skin side down. Spoon a tablespoon of the glaze over the fish and wait 5 minutes. Spoon another tablespoon of the glaze over the fish.
Bake for 10 minutes at 250 degrees. Spoon another tablespoon of glaze over the fish and return to the oven for another 10 minutes. Continue to do this until the fish is cooked to medium rare (gives a little more resistance when you push it and it begins to flake). Garnish with the scallion and serve.