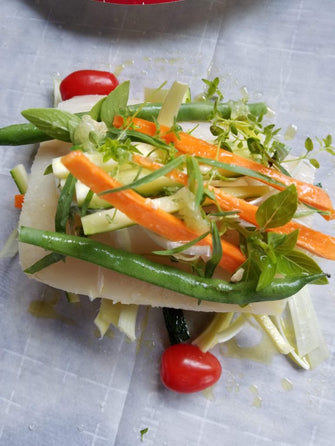 This recipe and photo came from a customer who wrote us simply with this one word "fabulous."
You can certainly take some liberties with the vegetables and herbs in this recipe, which is a modification of a recipe that originally came from Southern Living. The key is the parchment paper, which keeps the fish moist. The French call this method in papillote. The juices that stay in the parchment paper concentrate the flavors and release an aromatic steam when opened upon serving.
Ingredients
1/2 lb. fresh asparagus
8 sweet mini peppers
1 small sweet onion, thinly sliced
4 pickled okra pods, halved lengthwise
8 oz. small Yukon gold potatoes, sliced
1 tbsp. chopped fresh flat-leaf parsley
1/2 tsp. chopped fresh dill
2 tbsp. plus 1 1/2 tsp. olive oil
1 1/2 tsp. kosher salt
1/2 tsp. ground black pepper
4 (17-inch) parchment paper or aluminum foil squares
4 x 8-oz.

 

Alaska Gold halibut portions
1 lemon, quartered
4 tbsp. butter
Directions
Preheat oven to 400°. Snap off tough ends of asparagus and discard. Toss together asparagus, peppers, onion, okra, potatoes, parsley, dill, 1 tbsp. olive oil, 1/2 tsp. salt, and 1/2 tsp. black pepper. Divide mixture among parchment paper squares and top each with halibut portion. Sprinkle with remaining salt and drizzle with remaining oil. Squeeze juice from lemon over halibut portions; and top each with 1 tbsp. butter. Bring parchment paper sides up over mixture; fold top, and twist ends to seal. Place packets on a baking sheet.
Bake at 400° for 12-16 minutes or until thermometer registers 135° to 145° when inserted through paper into fish. Place packets on plates, and cut open. Serve immediately.
Expert tip: Packets must be tightly sealed so they don't come undone while baking. Make small, snug, overlapping folds to seal each bundle, and then twist the tail ends tightly closed.