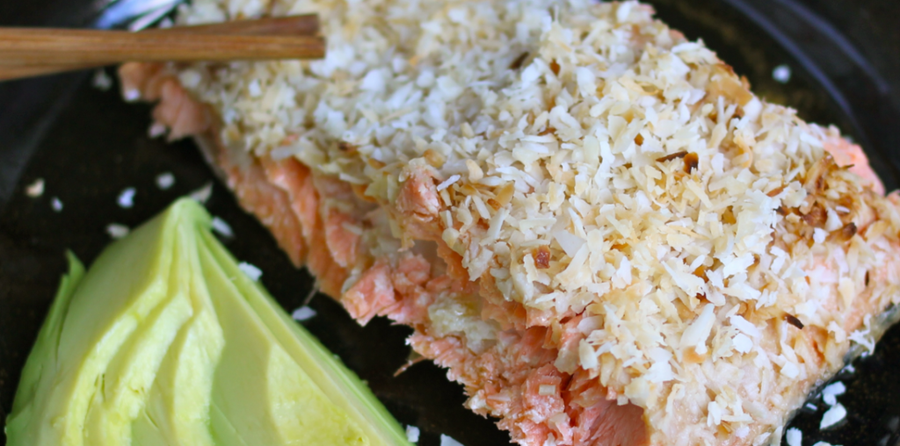 This coconut miso coho salmon recipe comes from our friend Food Network TV star Emma Frisch who writes about it. One of our customers calls this dish her "go-to" nice dinner dish. The flavoring of the coconut and the miso really pair nicely with the coho salmon. Some say to go easy on the ginger and garlic but give them a whirl if you like those flavors. We frequently get comments on our salmon like this one here from Emma frequently, but she puts it so well, we had to repeat it: "We had some folks over for dinner last night and I baked one of the Alaska Gold coho salmon fillets – Everyone was like, 'but seriously, what did you do!? It's amazing!' And I was like 'but seriously! it's the fish! it's not me!'"
Ingredients
3-4 Alaska Gold

 

Coho Salmon Portions

 

or 1

 

Coho Salmon Fillet
1 tbsp. white miso paste
1 tbsp. olive oil
1 tsp. tamari sauce (substitute with soy sauce)
1 tsp. garlic, grated
1 tbsp. fresh ginger root, grated
½ lime, freshly squeezed
½ tsp. salt
½ cup shredded coconut
Instructions
Remove the coho salmon  from the freezer in advance, with enough time to defrost in the refrigeration for 24-36 hours. Remove and let it sit at room temperature for an hour. Wipe dry with a paper towel.
Preheat the oven to 425 degrees Fahrenheit. Line a baking sheet with foil and place the coho salmon on top.
In a small bowl, whisk together the white miso paste, olive oil, tamari sauce, grated garlic, grated ginger, freshly squeezed lime juice and salt.
Cover the coho salmon with the marinade and sprinkle the shredded coconut over the top in an even layer.
Bake in the oven for 10-12 minutes, until the flesh begins to flake and the thickest part of the salmon is pink inside.
Remove the fillet from the oven and let it rest for a few minutes before serving.
Enjoy!