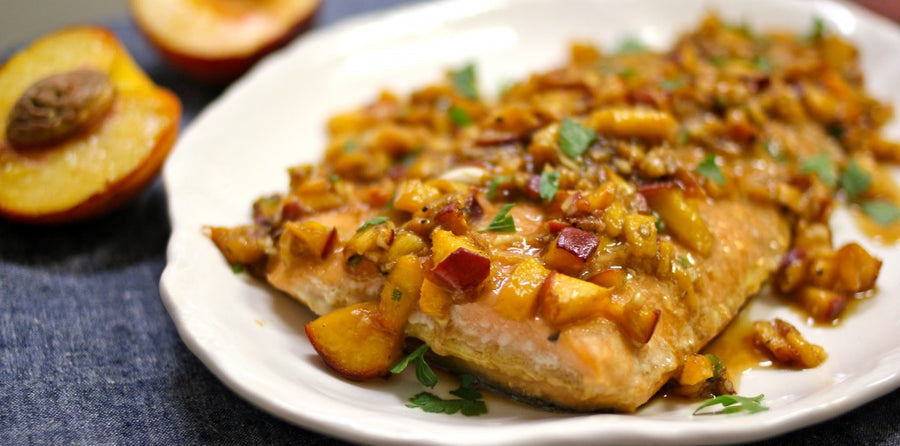 Here's a Baked Coho Salmon with Tamari Peach Salsa Recipe from our friend and Food Network Star Top Finalist, Emma Frisch. For more recipes, visit her blog at emmafrisch.com. Emma lives in Ithaca, New York, where she is the Co-Founder and Culinary Director of Firelight Camps, an elevated camping experience.
Emma spent some time with us at the Sitka Seafood Festival and on fisherman Charlie Wilber's boat and learned about what is unique about what our hook and line fishermen do in getting salmon from the sea to our customer's homes and she shares her stories along with the recipe in her post.
Prep Time: 5 minutes
Cook time: 12 minutes
Yield: 8-10 portions
Ingredients
1 peach, diced into ¼ inch cubes (sub with 10 oz. peach jam)
2 tbsp. tamari sauce (sub with soy sauce)
2 tsp. brown rice vinegar (sub with lemon juice)
1 tsp. pickled ginger, minced (or sub with fresh ginger)
1 clove garlic, minced
½ tsp. jalapeño, minced (optional)
¼ tsp. sea salt
black pepper – to taste
Instructions
Remove the Coho Salmon Fillet from the freezer in advance, with enough time to defrost in the refrigerator for 24-36 hours. Remove and let it sit at room temperature for an hour. Wipe dry with a paper towel.
Preheat the oven to 350 degrees Fahrenheit. Line a baking sheet with foil and place the coho salmon fillet on top.
In a medium bowl, whisk together the diced peach, tamari sauce, brown rice vinegar, pickled ginger, garlic, jalapeño, sea salt and freshly ground black pepper. Pour the tamari peach salsa over the fillet.
Bake the fillet for 10-12 minutes, until the flesh begins to flake and the thickest part of the salmon is pink inside. Remove the fillet from the oven and let it rest for a few minutes before serving.
Fisherman Charlie Wilber with chef Emma Frisch. Photo by EmmaFrisch.com.