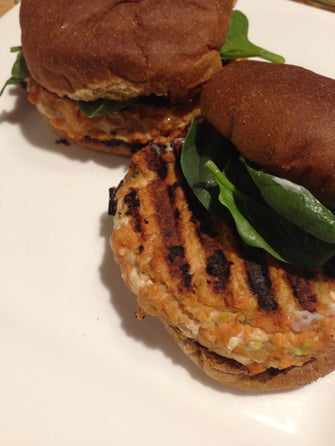 Here's a note from Amy: "My family and I LOVE salmon burgers. I used to buy freshly made wild salmon burgers from the seafood department of my local grocery store because finely chopping a salmon fillet to make my own salmon burgers was just too much work. I was so happy to find your Easy Salmon!  Making my own wild salmon burgers is now beyond easy. Now my family and I can have homemade salmon burgers any time we like and we know exactly what is going into them.  Here is our favorite salmon burger recipe.  We hope you enjoy it as much as we do."
Ingredients
1 lb. Alaska Gold easy salmon, defrosted
½ c. panko breadcrumbs
½ c. scallions, finely sliced (white and green parts)
2 tbsp. garlic, finely minced
1 tbsp. + 1 tsp. ginger, fresh, peeled, and finely minced
2 tbsp. soy sauce, low sodium
1 large egg, lightly beaten
½ tsp. toasted sesame oil (optional)
1 tbsp. sesame seeds (optional)
Directions
Preheat grill to 425 °F. In a large bowl, mix together all of the above ingredients. Form mixture into 4-6 evenly portioned burger patties. Grill 6-8 minutes on each side.
Place burgers on a bun and add your favorite toppings. The burgers are so flavorful, we usually top with just mayonnaise and lettuce. Enjoy!
Cooking tip 1: These burgers can also be cooked on the stove top – form patties as described above, preheat large skillet over medium-high heat, add oil to skillet, cook burger 6-8 minutes on each side. I have also cooked these burgers on a panini press/electric grill – 6-8 minutes total – no flipping necessary.
Cooking tip 2:  Form burgers, freeze for 20 minutes, then grill/cook on stove top. Freezing helps burgers stay together during grilling/cooking.