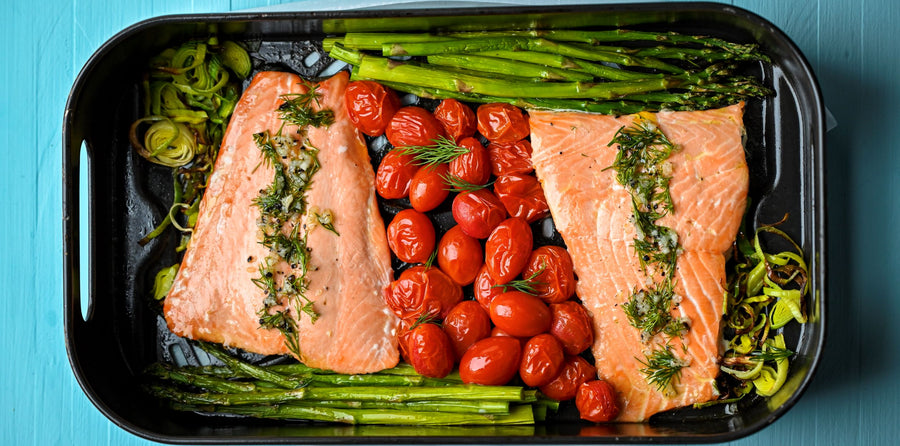 Air Fryer Salmon and Veggies with Garlic Dill Sauce Recipe
Recipe by Suzy Sakamoto, The Perfect Tide
INGREDIENTS 
2 Alaska Gold Coho Salmon filets, thawed 
½ bunch Asparagus 
1 cup Cherry Tomatoes 
⅓ cup Leeks, thinly sliced 
For the Sauce 
3 tablespoons Extra Virgin Olive Oil 
2 tablespoons Fresh Dill, or 1 TB dried 
2 tablespoons Lemon Juice, fresh squeezed 
3 large Garlic Cloves, minced 
½ teaspoon Salt 
½ teaspoon Black Pepper 
INSTRUCTIONS 
-Wash veggies and cut off the bottom 2-3 inches of the asparagus, and discard. -Preheat the Air Fryer to 350F. 
-Place Coho filets in the greased basket and surround them with the asparagus, tomatoes, and leeks. 
-Drizzle half of the sauce on top of the coho and veggies. Cook for about 6-8 minutes, until the internal temperature is 145F. 
-Plate and drizzle the rest of the sauce to serve. 
-Enjoy as is, with crusty bread, or over pasta.