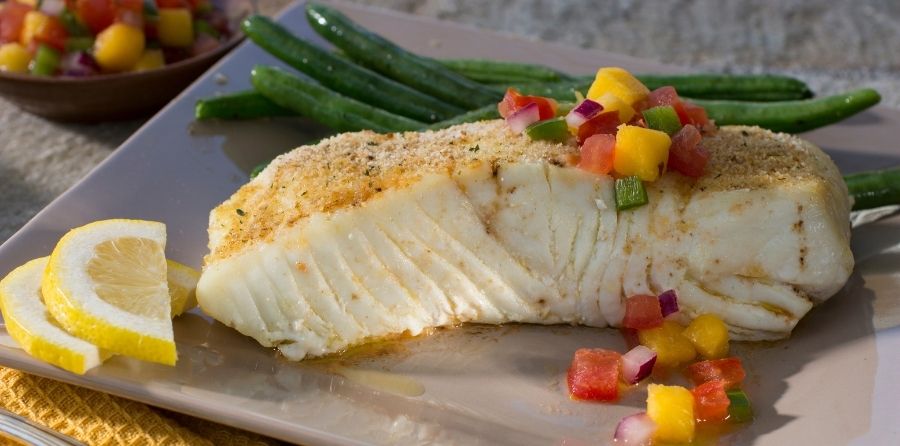 Get out of the kitchen and into the yard this summer. Mingle with friends, connect with family, and serve up grilled halibut at your next cookout. The best ways to enjoy halibut at your summer cookout enhance the taste of fine Alaskan halibut while allowing you to spend time with your loved ones.
BBQ Fillet
The mild taste of halibut allows you to get creative with spices, sauces, and marinades. Create a savory-sweet sauce out of brown sugar, butter, lemon juice, soy sauce, and butter. Before you put your halibut fillets on the grill, baste them generously with your sauce and continue to do so as it cooks.
Rice Wine Halibut
Add the taste of Japan to your grilled halibut. Rice vinegar and soy sauce pair well with a splash of mirin, a sweet Japanese wine that will add a depth of flavor to your fish. This recipe works best with a skinless halibut fillet.
Fish Tacos
Prep your meat with ease by sprinkling each side with a little salt and pepper before grilling. When your halibut is done, flake it into 1-inch pieces; when you buy Alaskan halibut, the superior texture will make this step easy. Serve with pico de gallo and a crunchy slaw of your choice.
Lime-Herb Halibut
While lemon juice is a classic condiment for any fish, make your dish zestier with a squeeze of lime. Before you prep your halibut simply—just salt, pepper, and a few minutes on the grill—put together a supreme herbed butter with lime juice, salt, cilantro, and basil. Serve each helping of halibut with a generous scoop of herbed butter on top.
Alaskan halibut is a perfect canvas for you to express your creativity as a cook. These inspiring ideas don't take too much effort, so you won't be stuck at the grill all day while your loved ones mingle. Combine top-tier halibut with other quality ingredients for the best ways to enjoy halibut at your summer cookout.