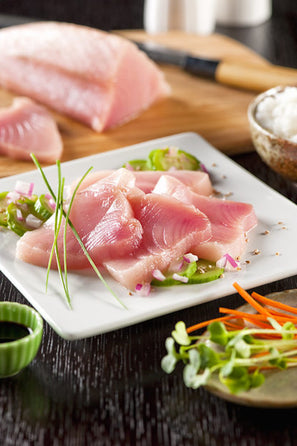 Our line-caught albacore tuna served as sashimi
Albacore tuna is caught all over the world. But it is widely regarded among sushi chefs that the line-caught albacore tuna caught off our Pacific Northwest Coast is the best tasting and most nutritious. Caught between June and October when the juvenile albacore are following feed about 50 to 250 miles off the coast to bulk up for winter, these tuna are gorging on nutrient dense prey, eating a quarter of their weight each day in anchovies and sardines. Their oil content gets up to nearly 21% and their fattiness makes them perfect for delectable sushi rolls, and are much higher in healthy oils than those caught in nets and typically sold in cans at most grocery stores. Best enjoyed as sashimi or seared, fatty, oily, line-caught Pacific albacore is easy to prepare and leaves a velvety feel in the mouth. "Like butter," report some of our customers.
If you've been to the coasts of Oregon and Washington, it's possible you've been lucky enough to have eaten line-caught albacore tuna. But what makes our line-caught albacore tuna special is our unprecedented commitment to quality. Our members get the fish in quickly, bleed it properly, hang it by the tail in front of blast freezers blowing air at -40 F. It is then stowed in a quick and timely manner, always paying attention to keeping the fish clean.
Our line-caught albacore tuna is sustainable, certified by MSC and rated green from Monterrey Bay Aquarium's Seafood Watch Program. When in a can, it also makes a perfect snack, loaded with many more nutrients than any snack bar and certainly cheaper by the ounce. It's so good, you'll eat it right out of the can and never go back to your boring snack bar.