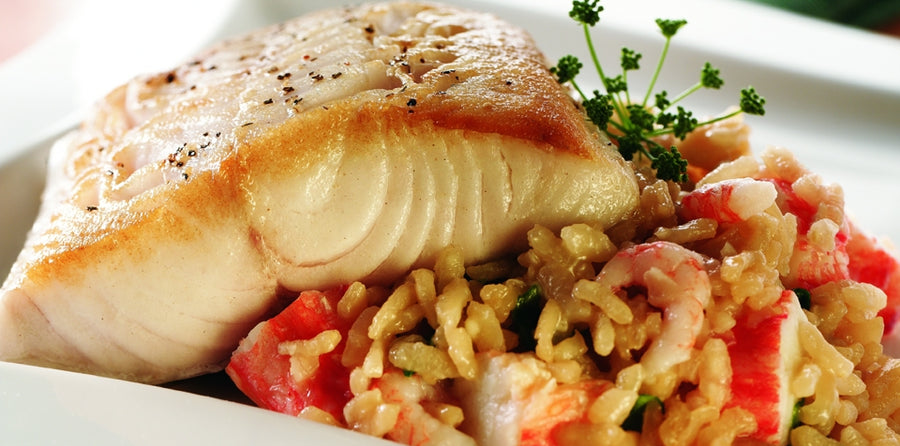 Hectic day at work? Don't know what to cook?
Sometimes it's easy to fall back on something that's supposedly quick and easy. Some "easy," fast food is tempting, because we think that a nice meal with a healthy protein like fish might be too difficult or timely to prepare.
But it really is easy to make a high quality fish taste good. Honest.
Here's my black cod story…
Last night, I was totally overwhelmed. My dog had just had knee surgery, my car didn't start. Another manic Monday, but on Tuesday.
But I came home and started some white rice and turned the broiler on. Dripped some olive oil in a Pyrex dish and placed two 8-ozportions of black cod lightly seasoned with salt and pepper in the dish and stuck them in the oven. Chopped some vegetables I had in the fridge—greens, carrots, green onions—and lightly sautéed them in some oil. While they were sautéing and the fish was broiling, I put in a little bowl some soy sauce, sesame oil, rice wine vinegar and a dash of honey. Personally, I don't measure, but I'd say significantly more soy than sesame oil and rice wine vinegar—really just a dash of sesame oil (it's powerful stuff if you get the pure sesame oil) and honey to taste (I like it sweet and I love honey so a big spoonful is great). I mixed that up andpulled the fish out of the oven at approximately 12-13 minutes when it was starting to flake.
In a bowl-plate, I put the rice, the vegetables, the fish, and then dripped my easy sauce over everything. I mixed the ingredients together well, chopping up the fish and mixing it in with the rice and vegetables. The whole process took  a grand total of about 15 minutes.
If you do a search for black cod recipe on the Internet, you'll find all kinds of miso-marinated or sake-marinated recipes, and I don't have the planning skills to marinade something 3 hours in advance, and sometimes handling miso intimidates people, and I usually don't keep a bottle of sake around (maybe I should), so I shy away from these recipes, especially on "school nights." We have a wonderful sake-marinated miso black cod recipe here and I'll do that on the weekend when I have time to plan.
But my bowl of fish and vegetables with the simple sauce was absolutely delicious. Super easy, too. Also, remember: you don't have to worry about overcooking black cod. The fatty oils—there are much more omegas in black cod than there are even in salmon—protect black cod from overcooking. Just make sure it gets a nice flake going before eating.
Enjoy!
Sablefish cooking.