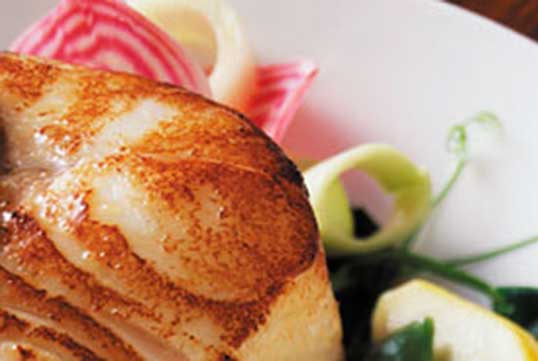 A while back SPC Premium Seafood Brands did a blind taste test with portions of 3 commonly known fish, in addition to a portion of black cod (sablefish). The participants were typical Americans picked at random from the Midwest with no background in the food industry. We had professional chefs prepare the fish to the best of their abilities.
In our first round, of the four fish, black cod placed fourth. We knew black cod was unfamiliar to most Americans, so we weren't too surprised with the results. But we know black cod as an extraordinary fish–rich and buttery with a silky flavor, higher in Omega 3s than salmon.
In the second round, our chef figured out a better way to cook the black cod, finding a way to make its flavor stand out. With the adjustment, the black cod placed first with just about everyone.
Black cod is just starting to catch on in the United States, whereas in Asia it has been a premier fish for a long time. Our black cod, hook-and-line caught in the depths of the pristine waters off Southeast Alaska, is just about as good as it gets.
It must be noted that black cod is as rich and filling a fish we know of, so make small portions. Because they are so loaded with fats and oils, you don't have to worry too much about overcooking, but follow the recipe below and you'll be on your way to food nirvana.
This meal has become a Christmas tradition for one of our fishermen.
Serves 6
Ingredients
¼ cup sake
¼ cup fresh squeezed orange juice
¼ cup soy sauce
6 – 8 oz

 

Alaska Gold Black Cod Portions
mashed potatoes for serving (2 ¼ pounds)
1 pound sauteed bok choy
1 tbsp. toasted sesame seeds
⅓ cup green onions (1 inch bias cut)
¾ cup orange miso sauce (½ cup miso paste, 1 tsp. orange juice and honey)
Preparation
Orange Miso Sauce: Combine ½ cup miso paste, ¼ cup cold water, 3 tbsp. plus 1 tsp. each: orange juice and honey and a large pinch togarashi seasoning. Whisk until smooth.
Whisk together sake, OJ and soy sauce. Marinate black cod portions 3 hours in this mixture. Remove fish and drain well.
Broil cod until you get a brown glaze over the top. The fish should flake.
To serve: Portion 6 oz. mashed potatoes in center of warmed plates. Flatten to a base for cod. Top with portion of bok choy, then cod fillet. Using 2 tbsp. per plate, spoon orange miso sauce around potatoes and over top of fish. Sprinkle with sesame seeds and green onions.
Copyright: >fedorkondratenko / 123RF Stock Photo