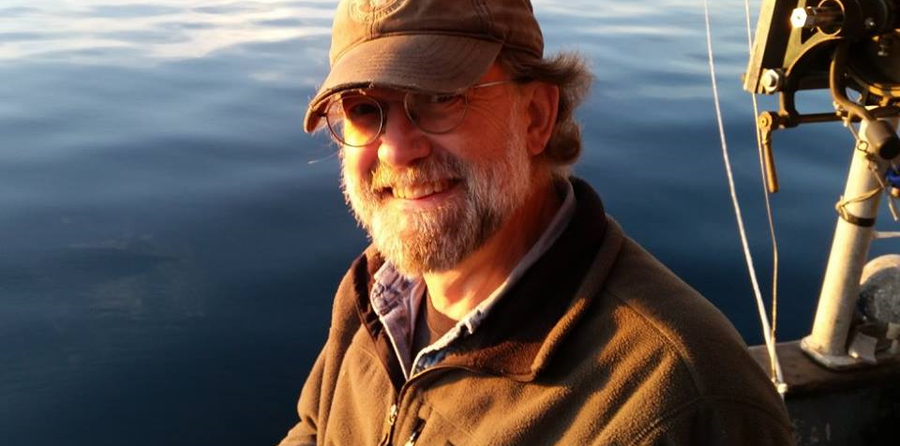 We've got all kinds of fishermen in our fleet. Some are poets, some are mathematicians. We've got painters, musicians, rocket scientists. Here's Mike Rentel who comes from a mechanical engineering background with a minor in math and emphasis on machine design and metallurgy. With an MBA emphasis in finance and entrepreneurship and minors in philosophy and behavioral economics, Mike fishes with a crew that consists of a veterinarian and a cattle rancher, both of whom Mike considers smarter than himself.
Mike started fishing summers with his grandpa in high school, trolling out of Ilwaco near the Columbia River. After his grandpa passed away, he finished college, but started up again with a 32-foot pocket-seiner/gillnetter and in a couple of years moved up to leased crabbers and a crew of five doing "deadliest catch" king crabs and tanners in the North Gulf of Alaska in the winter while fishing dungies between Icy Bay and Yakutat in the spring.
Mike met his wife, a geology professor, while she was mapping the sea floor off the coast of Chilean Patagonia and Antarctica. As an engineer keeping all the water, heat and electrical systems running in the remote cold wilderness, she was impressed that Mike could fix just about anything. Being able to fix things on the fly is exactly what it takes to run a commercial fishing boat in Alaska, too.
This spirit of adventure, inherent in all of our fishermen, along with a knack for fixing things helped Mike and his wife win the Spirit of Admiralty sailboat race, the longest inland water sailboat race on the West Coast.
Eventually, Mike "downsized" to the Harmony Isle, a 42-foot Wahl/Seamaster freezer boat. "I specifically chose a freezer-boat because I was committed to producing the best quality seafood possible."
Mike spends winters in Madison, Wisconsin. As part of our fishermen-owned co-op, Mike is just one of the fishermen owners of our company.
We think what's special about our Alaska Gold Seafood is that it comes from a fishermen-owned company. What we sell is the fish we catch. It's not uncommon that the fish sold in many places isn't what they say it is—the fish passes through many hands before getting to you the customer. Though our fishermen would love to personally deliver fish to you, we think purchasing from our website is almost as good. Fish fraud has been around since before the days when Jesus's disciples fished the Sea of Galilee. Fishermen being underpaid for their hard work has also been a common practice since biblical times. Which is why fishermen-owned co-ops like ours were formed. As owners of the business, fishermen-owners control their own destinies. We're quite proud of the work we do. We do it with integrity and transparency. And with a deep pride in our quality.