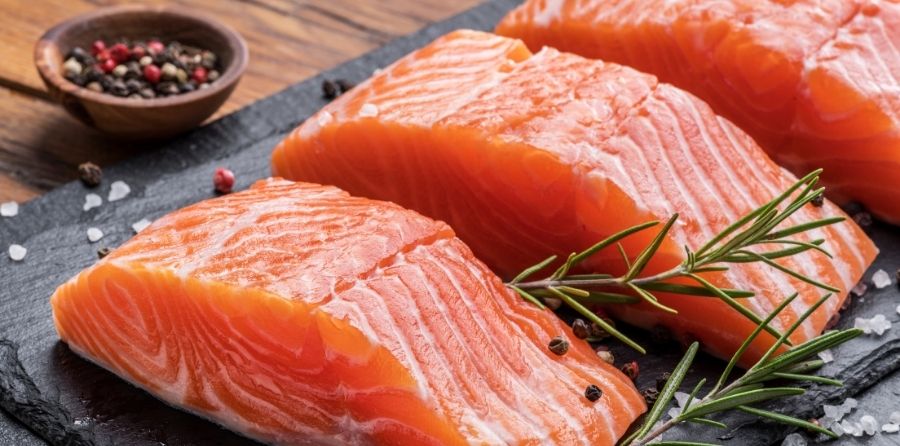 If you're a seafood enthusiast, you probably think you've tried it all. Sushi, calamari, fish and chips—you can find variations on many seafood dishes all over the world. But do you know where the fish in your meals were caught? What kind of water were they swimming in before they made it to your plate?
Alaska Gold Seafood is truly the gold standard in wild-caught seafood. Our great state is closely managed by both federal and state governments to ensure humane and eco-conscious harvests. We are proud of our diverse selection of fish and other seafood delights and doubly proud to offer you a guilt-free dinner.
For the best types of seafood you'll only find in Alaska, think fresh. Alaska Gold Seafood is a co-op that fishermen have owned and run since its inception. Our sustainable fishing practices ensure only the finest line-caught fish from some of the most pristine waters in the world.
Lingcod
With its mild taste and firm texture, Alaskan lingcod has a welcome place on any dinner table, from casual weeknights to special Sunday dinners. Some chefs have compared lingcod to lobster because of its delicate, sweet taste. Alaskan lingcod tastes doubly delectable when pan-seared with plenty of butter!
Lingcod doesn't taste like any other kind of cod—because it's not cod at all! Technically, it's a greenling. Lingcod can be daunting to look at when fresh off the line, boasting a big mouth full of sharp teeth and weighing up to 80 pounds. However, they look much more pleasant when filleted and served with delicious capers.
Rockfish
High in omega-3 fatty acids and ready to serve you your daily dose of vitamin D, rockfish has a sweet and slightly nutty taste. It's a perfect Taco Tuesday protein! Bring some spice to your Alaskan meal to complement the fish's light, clean flavor. Rockfish is perfect for soaking up new and unique flavors.
Also known as the Pacific rockfish or rock cod, the Alaskan rockfish may be one of the longest-living vertebrates on Earth. Our sustainable harvesting practices ensure that the rockfish remains bountiful while bringing the best of Alaska to your dinner table.
Wild King Salmon
You may be thinking, "But I can buy salmon anywhere!" Not this salmon. Alaskan waters are home to the biggest and best king, or chinook, salmon in the sea. We harvest king salmon with the old-fashioned hook-and-line method, unlike other fishermen. This practice ensures that we only bring in salmon of the highest quality. Reap the many health benefits of freshly caught salmon by ordering online from Alaska Gold.
Buttery and delicate all at once, our king salmon are some of our most popular sellers. There's nothing quite like wild-caught Alaskan seafood; you won't find a taste like this anywhere outside the last frontier. Plus, king salmon is full of omega-3s that boot brain function, so enjoy some fresh Alaskan king salmon today!
Halibut
The best whitefish in the world lives right here in Alaska. Halibut's snow-white meat has a delicate flavor and firm texture that holds up to all kinds of cooking. Our Alaskan halibut is so popular because it doesn't have that "fishy" flavor that many people try to drown in tartar sauce.
Halibut are bottom-feeders, much like flounder and some species of catfish, but Pacific halibut are the biggest flatfish in the family. That translates to firmer, lighter meat. Pick up portions of the finest halibut here from Alaska Gold. Who knew that ordering fish online could be so easy?
Smoked Black Cod
Also called the sablefish, black cod is a prized delicacy here in Alaska. With a nickname like "the bacon of the sea," you know you're in for a real treat. Why not try it with your eggs at breakfast?
The name "black cod" is another misnomer—like the lingcod, black cod isn't cod at all! Also known as sablefish, people often confuse black cod with the Pacific cod, but black cod is a true Alaskan favorite. Each 100g serving of sablefish contains 1,787mg of omega-3 fatty acids, making it higher in omega-3s than king salmon. That high oil content makes it a perfect candidate for the smoker. You won't lose any flavor or texture—you'll only enhance it.
Coho Salmon
Coho salmon is the bread and butter of our great state. Plentiful in the oceans with a rich taste and red-pink color, coho season attracts fishing enthusiasts of all skill levels.
Coho has the same rich red color as its cousin, the mighty sockeye. Its unique flavor profile stems from the fish's diet. Coho salmon feed on lots of plankton and waterborne insects. Compared to the bulk feeding and fatty taste of Atlantic salmon, Alaskan coho salmon boasts a much more complex flavor profile.
Alaskan Spot Prawns
The Alaskan spot prawn is the largest wild prawn in Alaska and is considered the lobster of our state. Take a bite and learn firsthand why we're so proud of our spot prawns. They get their name from the white spots all over their bodies. Low in calories and high in protein, you'll get a helping of essential nutrients with every bite.
The high sodium content of Pacific saltwater acts as a natural preservative, unlike the sulfites and tripolyphosphate you'll find in grocery-store shrimp and prawns. You know exactly what you're eating when you dig into our delectable Alaskan spot prawns. No mystery ingredients here—just the fresh, sustainably-caught taste of Alaska.
When you visit Alaska, you must sample all the seafood our great state offers. However, you don't have to buy plane tickets or make hotel reservations to get the taste of Alaska on your dinner table. Technology has made sampling the world's delicacies easier than ever—it's only a few clicks away!
From spot prawns to black cod, Alaska Gold Seafood is dedicated to providing high-quality seafood to folks all over the country. We're a fishermen-owned co-op that cares about the sea and the welfare of the animals in it. We humanely harvest our fish and take care to present only the best to our beloved customers.
This overview of the types of seafood you'll only find in Alaska is an excellent starter guide to the best in the state. While these species may look familiar, the fresh taste of Alaskan seafood makes all the difference. Instead of buying seafood at the grocery store, order fresh Alaskan seafood online for a superior experience.