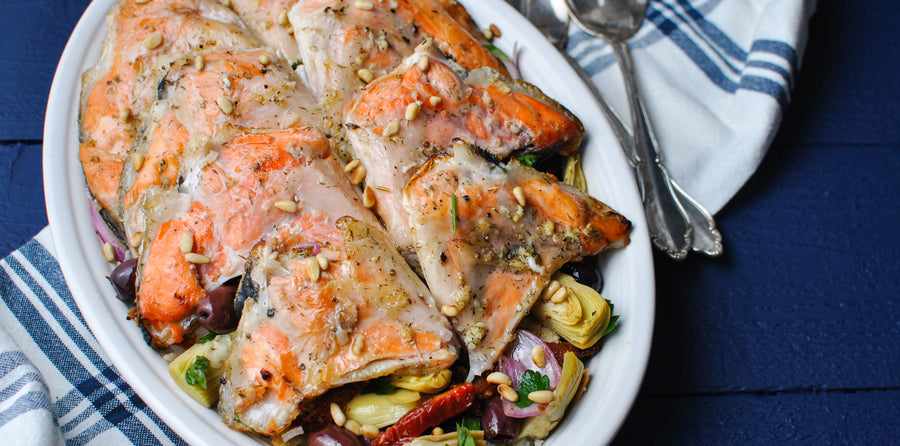 Mediterranean Antipasto Salmon Collars
with olives, artichokes, and sun-dried tomatoes
Recipe by Suzy Sakamoto, The Perfect Tide
For the King Salmon Collars
4
King Salmon Collars
1⁄4 cup extra virgin olive oil
1 lemon squeezed (1⁄2 reserved to squeeze to serve)
8 cloves garlic, minced
1⁄2 teaspoon dried dill
1⁄2 teaspoon salt
1⁄2 teaspoon fresh cracked pepper

For the Mediterranean Salad

1 cup marinated artichokes, cut in quarters
1⁄3 cup sun-dried tomatoes packed in oil
1⁄2 cup Kalamata olives
1⁄2 cup sliced red onions
1⁄2 cup roughly chopped flat-leaf parsley
Garnish
1⁄4 cup toasted pine nuts

Instructions

1. In a small bowl, mix olive oil, juice of half a lemon, garlic, dill, salt, and pepper, and set
aside.
2. Cut the fins off the collars using kitchen scissors, and discard.
3. Add the collars to an olive oil-greased 9x13 inch baking dish, and coat both sides with
half of the lemon garlic mixture. Cover and let marinate for at least 2 hours.
4. Remove and let sit for 20 minutes before cooking.
5. Broil the collars skin side up for 8 minutes, with the oven door closed. It's best to broil on the second or third level
6. Flip the collars, and top with the rest of the lemon garlic sauce and the salad mixture. Broil for another 8 minutes, gently stirring the salad halfway.
7. Squeeze the other half of the lemon and sprinkle with pine nuts to serve.
8. Enjoy the dish warm - on its own, or on a bed of rice. Watch for bones, and don't be afraid to enjoy the skin.