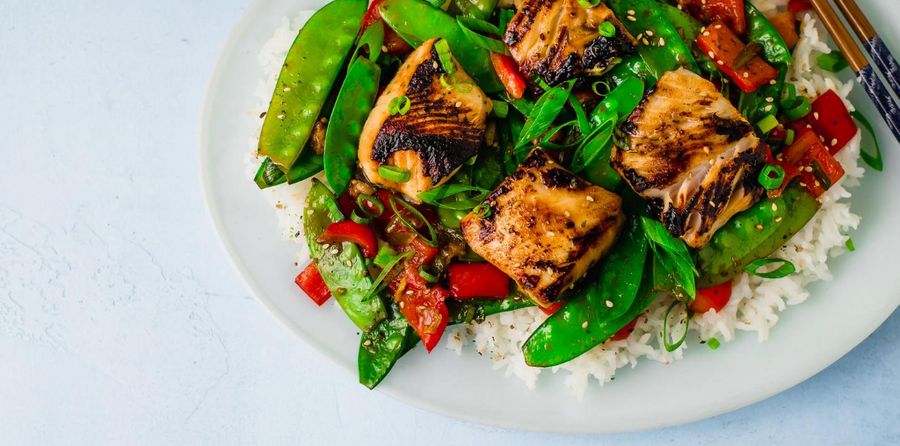 Ingredients
1 tbsp. grapeseed oil
1 package

 

Black Cod Bites or Black Cod Tips
1 red bell pepper, chopped into 1-in. cubes with seeds removed
8 oz. snow peas
2 green onions, sliced thinly, plus more for garnish
cooked rice, for serving
sesame seeds, for garnish
Teriyaki Sauce
2 garlic cloves, finely chopped
¼ cup soy sauce
2 tbsp. water
2 tbsp. brown sugar
1 tsp. cornstarch
1 tsp. grated ginger
1 tsp. sesame oil
1 tsp. sriracha
Instructions
In a bowl, whisk together all the teriyaki sauce ingredients and set aside.
Heat a wok or sauté pan over medium-high heat and drizzle with grapeseed oil.
Pat black cod bites dry and coat fish with about 2 tablespoons teriyaki sauce. Sear fish in hot wok for 2-3 minutes per side until caramelized, then remove and set aside.
Add bell peppers to wok and sauté for 2 minutes until bright red. Then add snow peas and teriyaki sauce and sauté until tender, about 2 minutes. Add green onions and black cod bites to wok and gently toss everything together.
Serve stir fry over cooked white rice and garnish with green onions and sesame seeds.