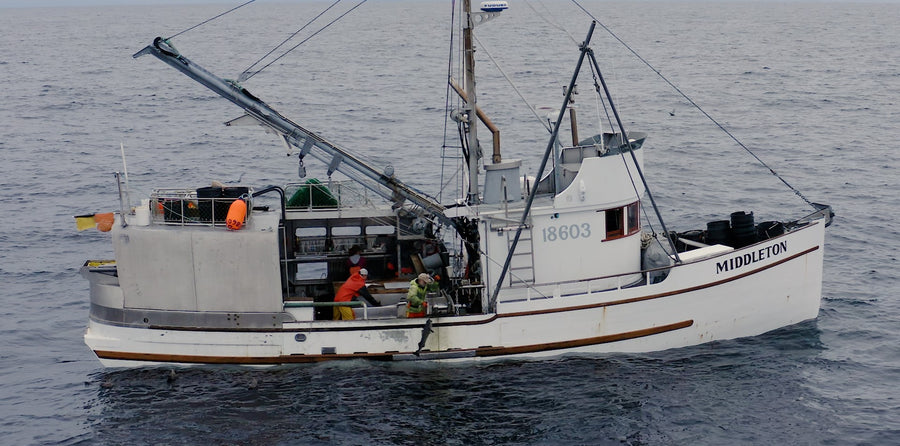 If you've had our Alaska Gold Black Cod, there's a good chance it was brought to shore on the F/V Middleton, a wooden boat nearly 100 years old and one of the many picturesque vessels in our fleet. Wooden boats with plenty of history and the thoughtful and crafty captains who operate them are at the heart of who we are as a fishermen-owned co-op in southeast Alaska.
Check out Captain Kurt Hansen speaking about the history of the Middleton and what it's like pulling Alaska Gold out of the sea in this short video.
Stoutly built, "[t]he boat has longlined, seined, tune trolled, king crabbed from Kodiak to San Diego." Though Kurt has had the Middleton for over 25 years, he's sure that the boat will outlive him.
Kurt has been a fishermen-owner of Seafood Producers Cooperative (SPC) for nearly as long as his ownership of the Middleton. He primarily fishes for Black Cod and Halibut on the Middleton.
Seafood Producers Cooperative (SPC) has been a fishermen-owned co-op since 1944. Alaska Gold is the brand name to look for the catch of the co-op. The steadfast adherence to tradition exemplified in the fine American craftmanship of the Middleton, is part of what makes SPC special.
Commercial fishermen feed the world. Commercial fishermen are also on the frontline of nature. On a black cod boat, like the Middleton, you're fishing right along the continental shelf where all kinds of fish and the fish that those fish, converge along with the whales and birds and the intrepid fishermen on their stout boats.
Sitka, Alaska: A Port that Produces the Finest Black Cod
One enormous advantage SPC has is its plant's location in Sitka, Alaska. The continental shelf is only 10-15 miles from the shore, whereas other ports up and down the west coast might be 80 to 100 miles or more from the continental shelf, making a boat's trip to the fishing grounds much longer. SPC's fishermen can bring in fresher catch. Their unparalleled attention to detail and pride in quality result in the world's greatest black cod. Wholesale buyers around the world know SPC for its quality in producing the best black cod. You can also order our Alaska Gold Black Cod here.
Why Black Cod Is So Special
Alaskan Black Cod is a great source of heart-healthy omega-3s and vitamin D. On average, sablefish contains 1.8 grams of Omega-3s per 100-gram serving versus 1.3 grams for wild king salmon. A 6-ounce portion of sablefish also has 90% of the daily recommended vitamin D. That's huge for immune boosting! This is a truly special fish and you can see here why sablefish is becoming more and more popular in fine dining restaurants around the world.