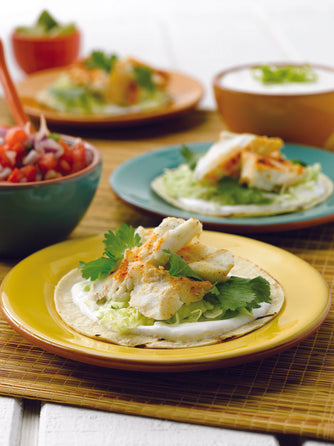 Check out this Wild Alaska Halibut Tacos Recipe from Executive Chef Ben Pollinger at New York City's Oceana.
Ingredients
1 cup sour cream
Juice of 2 limes
2 plum tomatoes
1/2 small red onion
1 small jalapeño pepper
Salt, to taste
4 Wild Alaska Gold Halibut fillets (8 oz. each)
1 teaspoon extra virgin olive oil
1 Tablespoon chili powder
12 small (4-inch) soft corn tortillas
2 cups shredded lettuce
1/2 cup cilantro leaves
Instructions
Preheat grill to medium-high.  Combine sour cream with lime juice, reserve.  Dice tomatoes, red onion and jalapeño; combine, season with a little salt, reserve.
Season Alaska Halibut with salt to taste.  Rub with olive oil and dust with chili powder.  Grill halibut about 4 minutes per side, cooking just until fish is opaque throughout.  Remove to a plate. Using a fork, gently break the halibut into long pieces.
Grill tortillas 10 seconds on each side.
To assemble tacos: Lay tortillas on plate. Spread with sour cream, top with lettuce and cilantro leaves.  Divide the halibut among tortillas; top with tomato salsa.
Recipe from Executive Chef Ben Pollinger. Recipe courtesy of Alaska Seafood