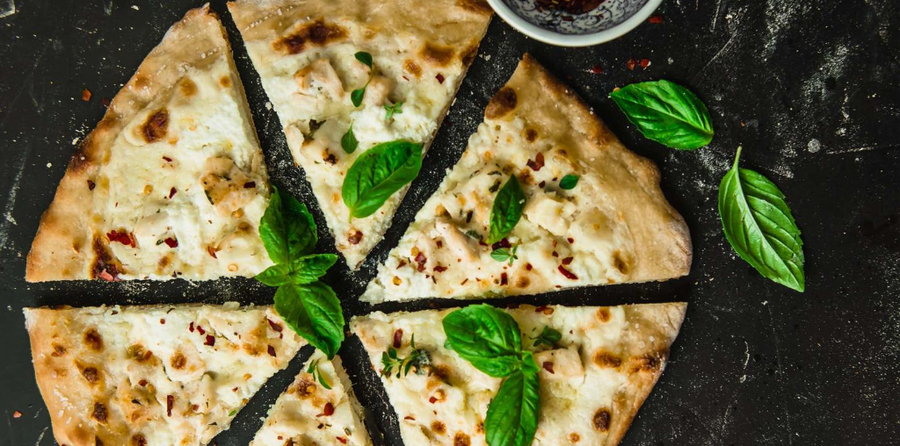 Ingredients
Pizza
1 lb. prepared pizza dough
flour, for dusting
4 oz. ricotta
4 oz. shredded mozzarella cheese
fresh basil leaves
fresh thyme leaves
Parmesan Cream Sauce
2 tbsp. butter
2 tbsp. flour
1 tsp. granulated garlic
1 cup whole milk
½ cup grated Parmesan
Herbed Halibut
salt and pepper
1 tbsp. olive oil
1 tbsp. unsalted butter
1-2 garlic cloves, chopped finely
2 sprigs thyme, leaves removed
2 sprigs oregano, leaves removed
Instructions
Pre-heat oven to 500 degrees Fahrenheit. Cut pizza dough in half and place dough on a lightly floured surface.
For the cream sauce, melt butter in a small pot and whisk in flour until fully incorporated. Whisk in granulated garlic and pour in milk. Whisk until sauce has thickened, about 5-7 minutes. Stir in Parmesan, turn off heat, and set aside.
Pat halibut meat dry and season with salt and pepper. Heat a non-stick skillet on medium heat and add olive oil, butter, and garlic. Cook garlic for 1 minute until lightly caramelized. Add the halibut and chopped herbs, sauté 2-3 minutes until halibut is just cooked through, and set aside.
Roll pizza dough into two 9-10 in. circles and spread Parmesan cream sauce in an even, thin layer, leaving a border for the crust. Add dollops of ricotta, shredded mozzarella, and herbed halibut.
Place pizzas on a pizza stone and cook until crust is lightly golden brown and cheese is melted, about 7 minutes. Once done, garnish with fresh basil and thyme leaves.