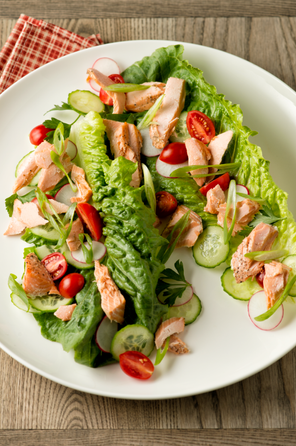 Use a counter-top oven and make this weeknight salmon wrap in a matter of minutes. Healthy and delicious, you'll have a new definition of fast food after making this recipe. This video walks you through the steps.
Serves 1-2
Ingredients
1 English cucumber, thinly sliced
1 Serrano chile, seeds removed, thinly sliced
1 small bunch flat leaf parsley, thinly sliced
1 small bunch fresh mint
1 bunch, butter lettuce or romaine lettuce
*Vinaigrette (use your favorite store-bought vinaigrette) or combine the following in a jar
1 tbsp. dried oregano
zest of 1 grated lemon
2 tbsp. olive oil
2 tbsp. vinegar
Instructions
Thaw the king salmon portions by leaving 24 hours in refrigerator in its package. (In a pinch, you can thaw by submerging in water for 20 minutes.)
After thawing the salmon, don't forget to pat it down with a paper towel.
Pre-heat oven to 375 F and slice and dice the vegetables. Season the salmon with salt and pepper.
Cook salmon for approximately 9-10 minutes.
When done, the salmon will flake easily and produce a white cream that oozes from its flesh.
Pull out of the oven and let stand for 5-10 minutes before placing on top of vegetables. Pour vinaigrette over salmon and vegetables right before serving.
* The advantage of using a counter-top oven is that your oven will pre-heat much quicker. If you don't have a counter-top oven, use your normal home oven. Either way, this Weeknight king salmon wrap is a quick, easy, delicious recipe.