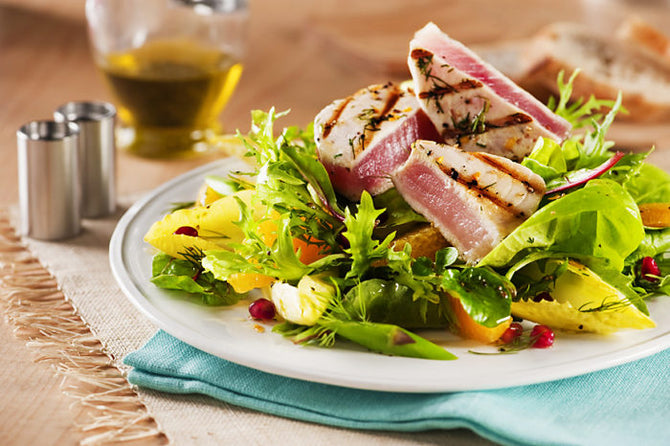 This easy Greek tuna salad recipe is delicious and healthy. At the same time.
Investing in your health was never so easy and inexpensive. Or so tasty. This is a meal we have in our house just about any time when we need something quick, easy and tasty. We get a case of  SPC Brand™ canned albacore and whenever we can get to the Farmer's Market for some fresh vegetables, one can of  SPC's premium quality albacore tuna compliments the vegetables really well. Here's a recipe, but any combination of vegetables combines nicely with SPC's dolphin-safe tuna. And you don't even have to cook. Just combine everything for a quick meal. But if you'd prefer to use  seared albacore, our albacore medallions are as good as it gets. Our canned albacore has had a loyal following among knowledgeable canned tuna fans for a long time, but the medallions, when seared, add another dimension.
Ingredients
1 tbsp. lemon juice
2 tbsp. extra-virgin olive oil
1 garlic clove, finely chopped
1 cucumber, peeled and finely chopped
1 ripe tomato, diced
½ cup feta cheese
~ ¼ cup of feta cheese
1 7.5-oz of  SPC Brand™ canned albacore
1 bunch of romaine lettuce with leaves torn in half
Salt to taste (~ ¼ tea spoon)
Instructions
In a small bowl stir lemon juice. oil, a dash of salt. In a larger bowl, toss cucumber, tomato, cheese, olives and tuna. Pour contents of small bowl over the medium bowl. Toss until coated. Serve on two plates covered in lettuce leaves.