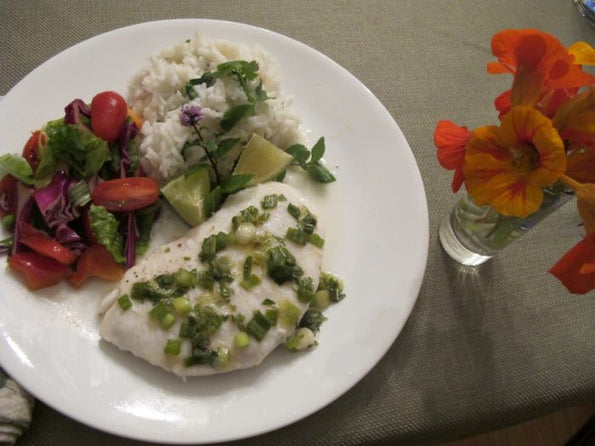 This Steamed Halibut Recipe was shared with us by our cooperative member Nancy Behnken who fishes on the F/V Dipper. This recipe won our fishermen's recipe contest.
Steamed halibut has a clean, mild flavor that complements this pungent sauce.  We used a bamboo steamer set over simmering water to steam the fish.  It's helpful to lightly coat the bamboo with cooking spray before adding the fish.
Ingredients
¼ cup finely chopped green onions
2 tbsp. finely chopped fresh mint
2 tbsp. fresh lime juice
1 tbsp. rice vinegar
1-1/2 tsp. sugar
1-1/2 tsp. fish sauce
1-1/2 tsp. dark sesame oil
¼ tsp. red curry paste
1 cup water
¾ cups basmati rice
¾ cup light coconut milk
½ tsp. salt, divided
3 tbsp. chopped fresh cilantro
4

 

Alaska Gold Halibut Portions

 

(8 ounces each)
¼ tsp. freshly ground black pepper
4 lime wedges
Instructions
Combine first 8 ingredients in a small bowl, stirring with a whisk. Set aside.
Combine 1 cup water, rice, coconut milk, and ¼ tsp. salt in a medium sauce pan; bring to a boil. Cover, reduce heat and simmer 15 minutes or until liquid is absorbed.  Remove from heat; let stand 5 minutes.  Stir in cilantro.
Sprinkle halibut portions evenly with remaining ¼ tsp salt and pepper. Steam fish, covered, 8 minutes or until fish flakes easily when tested with a fork or until desired degree of doneness.  Place ½ cup rice on each of 4 plates; top with 1 fillet.  Drizzle each serving with 2 tbsp. sauce.  Serve with lime wedges.  Yield: 4 servings.
The sauce is so good that I always double that part of the recipe and it generally all gets eaten!