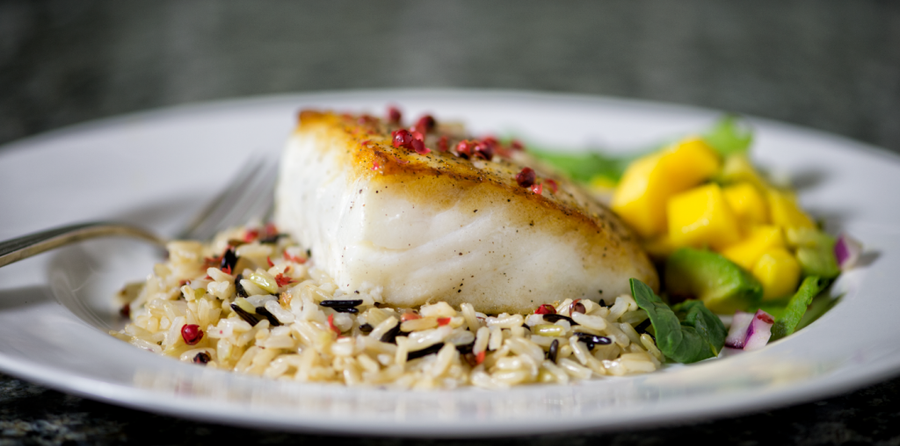 With succulent flavor, perfect texture, like a steak with butter but much lighter, it's no wonder halibut are known as the fish for people who don't like seafood. This pan-seared halibut recipe is easy and elegant. This video walks you through the steps.
Serves 1-2
Ingredients
1 avocado diced
1 mango, diced
½ sweet red onion, finely diced
1 tbsp. Salt & Pepper,
Juice of 1 lime
1 bunch greens
Instructions
Thaw the halibut portions by leaving 24 hours in refrigerator in package. After thawing the halibut, don't forget to pat it down with a paper towel, an often overlooked and underestimated step.
Rub halibut portions with oil and a dash of salt & pepper. (We used pink peppercorns in our recipe video, giving the halibut a pretty touch for a special occasion.)
Heat a cast-iron skillet to medium high and cook ~4 minutes per side. Halibut should have a browned edge.*
Plate halibut with a handful of greens and mango avocado mixture on top.
*  The most common mistake made when cooking fish is overcooking and this is especially true for halibut. Remember that your fish keeps on cooking after you have removed it from the heat, so pull it earlier than you think.