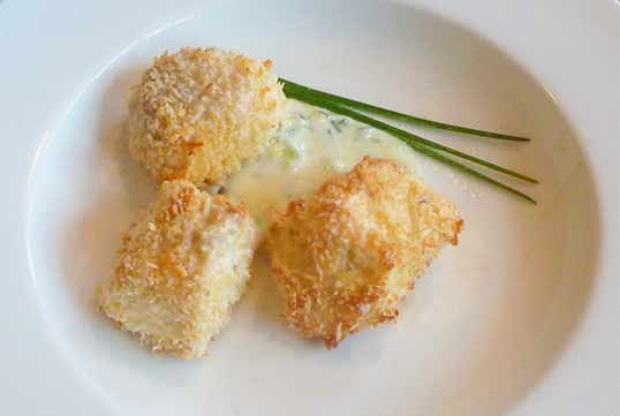 What do busy moms that own fishing boats eat? Here's an Oven-Fried Fish n' Chips Recipe from Jacquie Foss, Seafood Producers Cooperative member and co-owner of the F/V Axel, a family fishing boat.As a Busy Mom and half-owner of a trolling boat, I usually have lots of fish and not a lot of time. As a human with a pulse, I like fried food. Unfortunately my busy life and desire to live past 45 keeps me from indulging in fried food all that often. Fortunately, I have learned how to oven fry fish that reasonably approximates the texture of "real" fried fish.
Ingredients
2 pounds

 

Alaska Gold Lingcod

 

or

 

Rock Fillets, thawed and cut into 1.5 or 2-inch cubes
1 cup flour
1 tablespoon Santa Maria style seasoning (this is a mix of salt, pepper, garlic powder, dried parsley, and magic. If you don't have this blend in your spice stash you can mix together any spices you desire to equal 1 tbsp. Or go buy this blend because it is amazing on all types of protein.)
1 egg
¼ cup milk
2 cups of panko (Japanese breadcrumbs).
Instructions 
Preheat oven to 400 degrees. Place a sheet of parchment on a baking sheet. Place three bowls in front of you. Mix the flour and spices into the first bowl. Whisk the egg and milk into the second bowl. Dump the panko into the third bowl. Dip the Alaska Gold Lingcod or Rockfish in this specific order—flour mixture, egg mixture, then roll in panko—then place on the parchment paper-covered baking sheet. Your hands will become sticky, so you may want to use forks or spoons or tongs to run the fish through this gauntlet. I always start with forks but inevitably give up and just plow through with my sticky hands. Bake in the oven for 10-15 minutes, or until the tops turn golden.Serve with the sauce of your choice. I usually make tartar sauce with Mayonnaise, dill relish, diced onions, and a squeeze of lemon.Recipe is easily doubled/tripled to accommodate more fish.Treat your family to a tasty, healthy Wild Alaskan dinner.