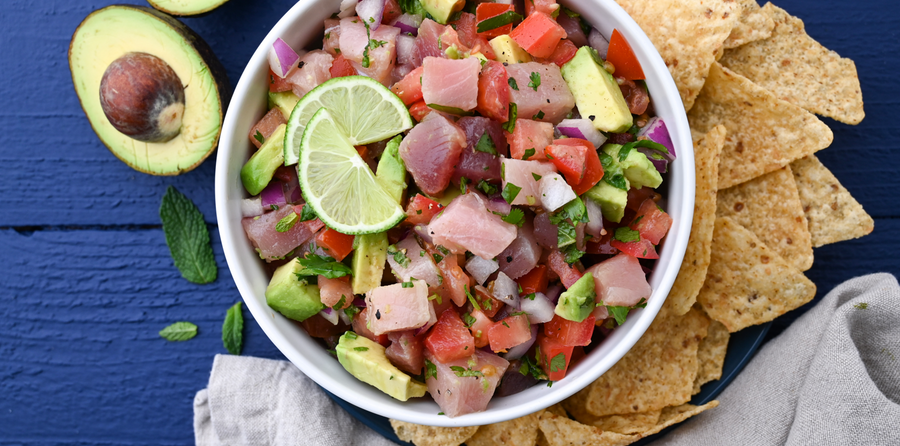 Albacore Tuna Ceviche Recipe
Recipe by Suzy Sakamoto, The Perfect Tide

INGREDIENTS

- 1 Alaska Gold Tuna Loin, cut into large cubes
- 1 cup tomatoes, diced small
- 1 large avocado, diced
- 1⁄3 cup red onion, diced small
- 1⁄4 cup cilantro leaves, chopped
- 6 large mint leaves, chopped
- 2 cloves garlic, minced
- 2 tbsp extra virgin olive oil
- 1⁄4 cup lime juice, freshly squeezed
- 2 tbsp lemon juice, freshly squeezed
- 1⁄8 tsp red pepper flakes, or more to taste
- 1 tsp sugar
- 1⁄2 tsp salt
- 1⁄2 tsp pepper

INSTRUCTIONS

To a medium bowl, add the tuna, tomatoes, avocado, red onion, cilantro, and mint. Set aside.

In a small bowl, mix garlic, oil, lime juice, lemon juice, red pepper flakes, sugar, salt, and black pepper.

Pour the citrus dressing into the tuna mixture and gently mix to combine.

Place in the fridge for at least 20 minutes to allow the flavors to meld.

Enjoy with tortilla chips.

Recipe by Suzy Sakamoto, The Perfect Tide