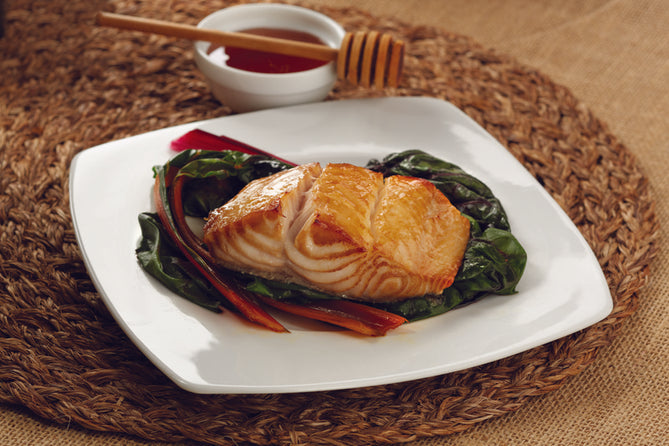 Honey, soy sauce and black cod. What a delicious combination. Our SPC black cod is known by buyers around the world as the best black cod available. This honey black cod recipe is easy, delicious and healthy. We bring the tastes of Alaska to your home.
Ingredients
1 cup honey
½ cup soy sauce
¼ cup olive oil
⅓ cup white wine vinegar
4

 

Alaska Gold Black Cod Portions (approx 8 oz. each), thawed
sea salt and black pepper, to taste
Instructions
Stir honey, soy sauce, olive oil and vinegar together in a glass (or non-reactive) bowl. Place Alaska Gold Black Cod Portions in the bowl, skin side up, so that marinade covers all of the fish flesh. Cover and refrigerate for 12 to 24 hours.
Heat oven to 450°F. Remove fillets from marinade and place on a nonstick (or spray-coated/foil-lined) baking sheet. Season with salt and pepper. Roast until fillets are golden to dark brown, about 7 to 9 minutes. Cook just until fish is opaque throughout.
Easy, healthy and delicious, this Honey Black Cod Recipe shows the best of Alaska.
Recipe modified version from Alaska Seafood.