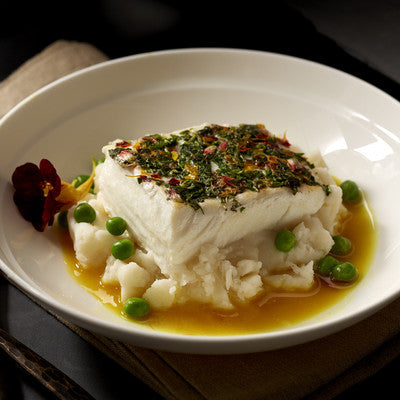 Jesse Ziff Cool is a speaker and food innovator and founder of 5 Bay Area restaurants, like the Flea Street Cafe and the Cool Cafe. Here is her Herb and Flower-Crusted Alaska Halibut courtesy of Alaska Seafood.
Ingredients
½ cup chopped fresh Italian parsley
¼ cup chopped organically grown edible flower petals such as calendula, nasturtiums, roses, onion, or chive blossoms
2 tbsp. chopped fresh chives
2 tbsp. chopped fresh basil
1 tbsp. chopped fresh oregano
½ tsp. salt
¼ tsp. fresh ground black pepper
2 tbsp. olive oil
1 cup chicken, vegetable, or fish broth
¼ tsp. saffron threads
2 garlic cloves, minced
1 lb. fresh peas, shelled, or 1 cup frozen peas, thawed
Instructions
In a shallow bowl, combine the parsley, flour petals, chives, basil, oregano, salt, and pepper. Place the halibut portions in the flower and herb mixture, pressing the fish to thoroughly coat both sides. Set aside.
Heat the oil in a large skillet over medium-high heat. Add the halibut portions and cook for 4 minutes on one side. Turn over the halibut and pour in broth. Add the saffron and garlic. Simmer for five minutes, or until the halibut is just opaque in the broth is reduced by half. Drain the last minute or so, add the peas.
To serve, place a fish fillet in each of four shallow soup bowls. Divide the broth and peas evenly among the bowls.
Photo and recipe courtesy of Alaska Seafood