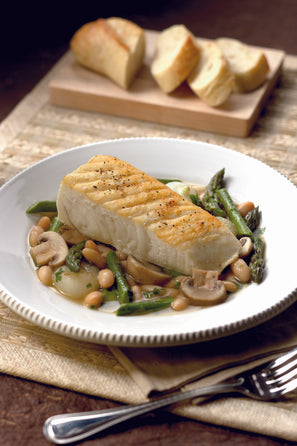 Delicate, firm, white flesh with a beautiful flake, halibut is a perfect fish for Spring.
Ingredients
¼ ounce dry porcini mushrooms
1 cup shitake mushrooms
2 cups button mushrooms
2 tbsp. butter
Parchment paper
½ pound asparagus, cleaned and cut into 4-inch lengths
¼ pound baby carrots, trimmed and blanched
wild mushroom buerre blanc sauce (see below)
salt and pepper to taste
Instructions
Preheat oven to 450 F.
Soak porcini mushrooms in 3 cups boiling water. Let stand until water is room temperature. Drain, reserving liquid for sauce.
Slice all mushrooms.
Sauté all the mushrooms in 2 tablespoons butter in a large saucepan over medium heat until golden brown. Remove heat and cool.
Lay down sheet of parchment and fold in half. Open and butter one half. Place halibut portion on buttered half.
Arrange a quarter of asparagus, carrots and mushrooms around fish. Fold paper over fish and trim edges to make half circle, leaving 1-inch margin around edges.
Bake at 450 F for 10 minutes per inch of thickness at thickest part of halibut portion.
Remove from oven and place on serving plate.
Snip open parchment. Drizzle fish with 2 tbsp. buerre blanc sauce. *Note: this recipe can be done with aluminum foil, but remove foil before serving.
Buerre Blanc Sauce
½ cup dry white wine
liquid from soaking mushrooms (see above)
1 tbsp. green onions
½ tbsp. white wine vinegar
½ cup cold butter, cut into small pieces
Combine ingredients, minus the butter, in saucepan. Bring to boil and reduce to ~ 1/8 cup. Reduce heat to medium, gradually whisky in butter, 2-3 pieces at a time until butter is incorporated. Keep warm until served.