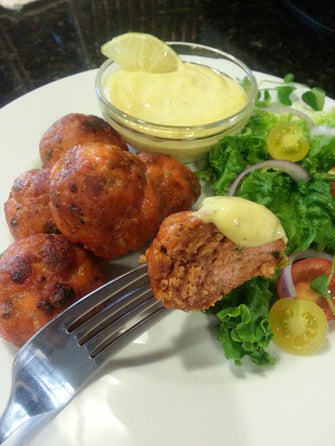 Admittedly, I haven't had the pleasure of cooking with Easy Salmon, as I only recently discovered Alaska Gold Seafood. I look forward to using Easy Salmon for this recipe (and others) from now on!
This recipe usually starts with a fillet (or fillets) of wild caught salmon, then arduously removing bones and skin. What a time AND money saver Easy Salmon will be, making this a fast, easy weeknight meal! These meatballs are perfect for my family when we just don't feel like another fillet of grilled salmon, although we like to keep salmon in the rotation at least once a week. Personally, I find that these meatballs are flavorful enough to eat on their own, but if you are like my little one, who likes to dip anything and everything, then the Ginger Lime Dipping Sauce will pair famously.
This recipe started several years ago when I discovered sriracha sauce, in all its spicy, garlicky glory. It was the condiment of choice on grilled salmon for my husband and I. But then, I thought, let's make it more interesting, and I started mincing the salmon, mixing in Sriracha and other spices, and forming into patties. Shortly thereafter, the patties morphed into dip-friendly meatballs when the little ones came along. For all the years I have been making these salmon meatballs, the recipe never actually had an official name. My husband and I brainstormed for a bit and we decided they had a distinctly Asian flare, hence their new name.
Thanks for the chance to share!
Rebecca
Note: If using the Ginger Lime Dipping Sauce, prepare sauce about a half hour before starting the meatballs to give the flavors time to marry.
Ingredients
Dipping Sauce
1/2 c. mayonnaise (preferably homemade)
1 tbsp. fresh lime juice
zest of 1 lime
1 tsp. grated fresh ginger
Meatballs
1 package Easy Salmon, thawed
1/2 c. plain bread crumbs
1 heaping tbsp. coconut palm sugar
2 tbsp. finely chopped cilantro (use parsley if you dislike cilantro)
1 tbsp. chopped dehydrated chives or green onion
1 large garlic clove, crushed in press or very finely minced
1 tbsp. Sriracha hot sauce
1 tbsp. fish sauce
1/2 tsp. freshly ground black pepper
Directions
Preheat oven to 375° F. Line a baking sheet with foil or grease liberally with coconut oil. Place thawed Easy Salmon into food processor and pulse briefly just until salmon resembles a very course paste (avoid blending until smooth). 
Transfer salmon to a medium bowl and add remainder of meatball ingredients.  Using hands, gently mix ingredients until well combined. Form mixture into balls, about an inch and a half in diameter. Arrange balls evenly on prepared baking sheet. Bake for 12-14 minutes, until browned and very slightly crisp on outside.  Makes 10-12 meatballs.