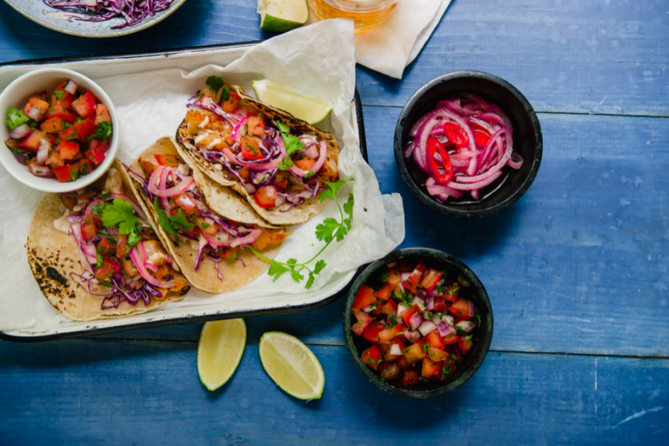 Ingredients
Pickled Onions
½ red onion, sliced thinly
1 Fresno pepper, sliced thinly
¼ cup apple cider vinegar
Chipotle Crema
½ cup whole milk yogurt
½ cup sour cream
1 garlic clove, chopped
1-2 chipotles in adobo sauce, seeds removed
1 tbsp. lime juice
½ tsp. salt
Pico de gallo
1 large tomato, seeded and diced
¼ cup white onion, diced
2 garlic cloves, finely chopped
juice of 1 lime
small bunch of cilantro, roughly chopped
½ tsp. salt
Other Additions
red cabbage, sliced thinly
flour tortillas
lime wedges
Instructions
For the pickled onions, add sliced onions and Fresno pepper to a bowl, cover with apple cider vinegar, stir, and set aside.
In another bowl, add the diced tomatoes, onions, garlic, lime juice, cilantro, and salt, toss to combine, and set aside.
In a small food processor, blend the yogurt, sour cream, chipotles in adobo, lime juice, and salt until smooth and well combined. Transfer to a small bowl and set aside.
Heat a skillet over medium-high heat and drizzle with avocado oil. Pat the rockfish fillets dry and rub with paprika, cumin, chipotle, and salt on both sides.
Place fillets in hot skillet and cook until deep golden brown, about 2-3 minutes per side. Once done, remove to a plate and set aside.
While fish cooks, char tortillas over an open flame for about 15 seconds until lightly toasted. Use a fork to flake the rockfish and serve in charred tortillas with pico de gallo, onions, a drizzle of chipotle crema, red cabbage, and lime wedges.
Don't forget to check out our video of these chipotle rockfish tacos!