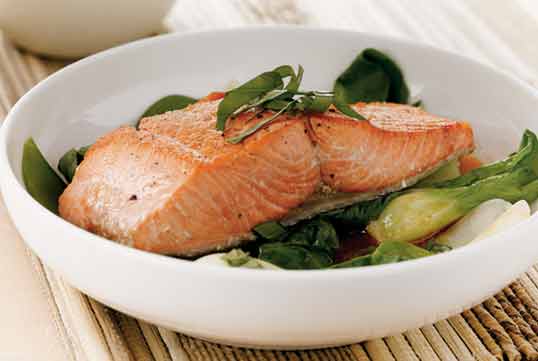 Minimal Seasoning Required, Tastes like it just came Fresh Out of the Sea.
Making fish is easy.
As it is with a great cut of beef or pork, minimal seasoning is more than sufficient for a premium-quality fish. A lot of us fishermen in our fishermen's cooperative do not season our fish with much more than salt and pepper. A lavender salt rub is easy and makes for a delicious salmon.
Ocean-bright, this line-caught salmon does not require much seasoning to be enjoyed. Its color is perfect.
Here are some basic instructions to show just how easy it is to cook with our fish.
When you get your fish, store all vacuum-sealed packs in the freezer.
To thaw: Take out the number of packs you'd like out of the freezer a few hours before mealtime or place in fridge 24 hours before mealtime.
When working with great tasting fish, the beauty is in the simplicity.
Here's a simple way to prepare our premium portions:
For oven: Preheat to 400ºF. Line shallow baking dish with foil or spray well with cooking spray.
For grill: Heat grill to medium high heat. Prepare an aluminum foil tray. Place fish in center.
Brush fish with olive oil and sprinkle on desired seasonings like salt and pepper or foil.  Bake for 10 minutes or until fish flakes when tested with a fork.