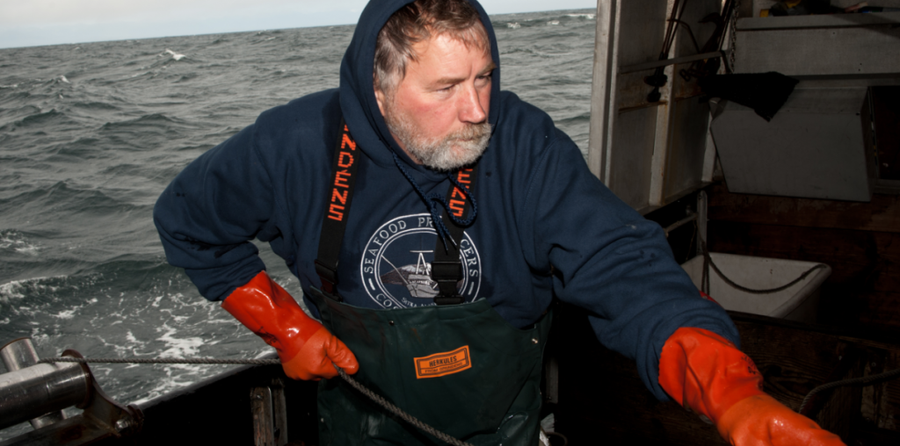 Seafood Producers Cooperative (SPC), North America's oldest fishermen's co-op, is built on the work of families whose livelihoods depend on the health of our waters. Nobody has a tighter connection with our waters than fishermen.  They are the first to recognize that fish are nature's true reward, the last commercially available wild meat, and take great pride in feeding families around the globe.
SPC member Dick Curran has been a commercial fisherman for more than 30 years. Like many fishermen in Alaska, he's not originally from the 49th state. Raised in upstate New York and Cape Cod, he first became interested in commercial fishing when as a boy, he and his father visited relatives on a remote island off the coast of Newfoundland. His family had been fishing cod there since emigrating from Ireland in the 1700s.
As soon as Dick graduated from high school he and a friend hitchhiked to Alaska where he landed a job at Pelican Cold Storage. The next spring Dick started working as a deckhand, fishing for salmon, halibut and tuna. In 1978 he bought his first boat, which he lost when it rolled over suddenly in stormy waters.
In 1991 he bought the Cherokee, the boat he  fishes today. He has fished from Chatham Strait in Southeast Alaska, west to the Aleutians, specializing in high quality black cod and halibut.
In a further effort to be a good steward of the resource, Dick and his family participate in the Marine Conservation Alliance Foundation Marine Debris Cleanup project with the support of SPC. During the break between fishing the Gulf of Alaska and before outfitting for the black cod fishery they have removed marine debris from remote coastal beaches that would have been harmful to local wildlife.
Dick never tires of his independent life and the chance to explore the beautiful Alaska coast. He is proud of the fleet's commitment to sustainable fisheries and delivering high quality products. He is featured in this video about our fishermen-owned co-op "The Good Catch."